Dear Roaster:
SwaSlu Stealth Roast Opportunity
When the Roaster gets busy, the busy Roaster gets marketing help!
It is all about the Marketing!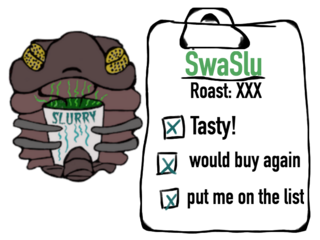 In a world that expects ever more production from an ever shrinking timeframe, one can sometimes use some help.
That is what SwaSlu.com is set up to accomplish, more for, and from, your STEALTH ROAST with minimal effort from your staff, all without risk to the Brand.
The people behind SwaSlu.com spent 20 years cranking a cafe/coffee shop and theater and marketplace, the Brooklyn Lyceum ( brooklynlyceum.com), with two - three hundred person occupancy activity spaces.
We learned quite a bit working with events big and small. While that venture is on hold (really long story, no time for that now), we have taken some learnings and applied them to sharpen the marketing axe, an espresso marketing axe.
Short Story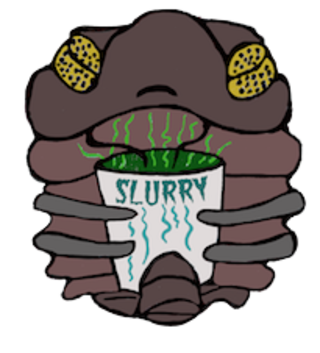 The short story is that with the explosion of roasters, it is harder by the day to get the word out and to get people onto your roasts.
It has gotten so difficult that many roasters have resorted to repeated flash sales and monthly box subscriptions in the off chance that it will inspire more purchasing action, often a race to the bottom.
When one adds the fact that all roasts can't get shelf space at Whole Foods and there being no reason why a west coast roaster shouldn't have east coast awareness ... to that we say, time to roll out the tasting wagon.
We take in 11 lbs of your espresso roast, do our thing with it, creating the STEALTH ROAST, and take it on the road to anonymously sample the roasts as Americanos, mostly, and conditions permitting, lattes.
We do this in a variety of pop-up locations that should have good foot traffic.
We get anonymous feedback (rating/review/comment) from those willing.
A Bit More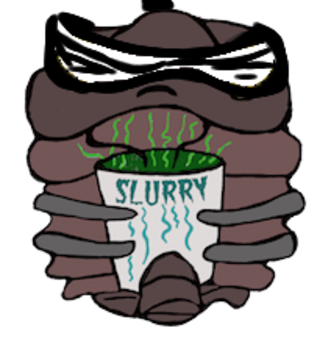 But here is the ticket, your roast is assigned a unique catalog number that only we know and the ratings/reviews/comments are all anonymous to the world.
You get an honest opinion of your roast, we call them STEALTH ROASTs, and it is done without any risk to the brand, because it is anonymous.
We serve 600 samples over 8-16 event dates and we collect and collate the feedback for you.
You also avoid the cost and hassle of prepping for a presence in markets.
A Future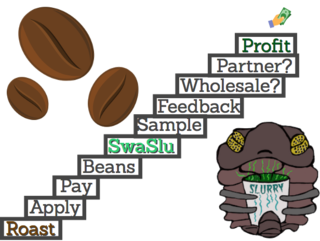 And, if your STEALTH ROAST knocks it out of the park, we might become a wholesale client.
And, in true Ginsu knife fashion, you may end up becoming a client of our process on your roast, either for downtime sales you prepare or sales to your public.
Given these upsides we hope you will consider submitting a Stealth Roast for our roadshow.
Why is SwaSlu Different?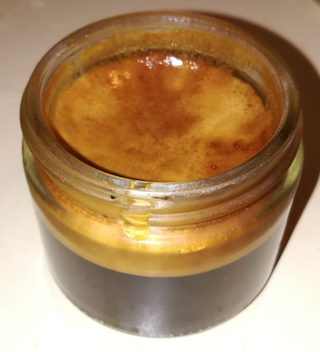 For starters, we tossed the large espresso machine portability anchor.
Between Hurricane Sandy and a lackadaisical Con Edison Power, the Lyceum had to make do with some batteries and a couple of generators.
No way our three group head La Marzocco Linea could run on that. So we grabbed a side project off the shelf and immersed ourselves in a paleo, or aggressively back to basics, espresso process.
Good beans, a good roast, a good grind, hot water and pressure and excruciating attention to detail and consistency.
Our axe of choice ended up being what seemed a toy, but actually was a swiss army knife-type tool, the ROK (https://www.rok.coffee/).
Then we altered the parameters and attacked a few urban legend rules with some counter intuitive adjustments gleaned over thousands of shots. But once we started using it nonstop in the mornings we nailed a process that made us eyeball the extra space we could have if we tossed the espresso machine.
Now we have done couple thousand shots and have learned that we prefer Americanos over any type of brew (but with a gun to our head, we choose a siphon brew).
We started testing the Americanos against friends and relatives and passers by, more commonly known as "average joes", and their ever present Dunkin Donuts coffee.
Now the third wave is nothing if not nuanced, so it took a cup or two for most to appreciate the Americano as opposed to mainstream brewed coffee. But once they got that there is actually flavor to good coffee, it is a fruit after all, dammit, they came around quickly.
Once we found the sweet spot, we monkeyed around with an issue that plagued us at the Brooklyn Lyceum Cafe, not being fast enough during the morning rush.
Long story, short... this is what we learned.
Semi-mass produced (after dialing it in) STEALTH ROAST espressos quick cooled and slapped in a cool fridge preserved some spectacular tastes that shine as an Americano. And they could become an Americano with no muss and no fuss.
Now here is the rub, you may not believe us. You don't have to believe us. But you should consider what we offer.
And, more importantly, you should consider that submitting a STEALTH ROAST is done at no risk to your brand.
Again, you provide the flavor, we provide the labor!

CONCLUSION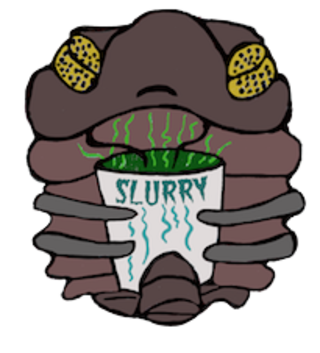 ---